2015 is almost here, so let's look ahead to some of the most widely accepted website trends to keep in mind so you can be successful in the new year. If you haven't redesigned your website in the last 2 years, a ton has changed. Maybe it's time to ring in the new year with an updated website with these powerhouse features:
Responsive Design 
"Responsive" is not a luxury – it's the new standard. 2015 websites should be easy to navigate and read from any sized device without needing a mobile url or separate site to maintain.
Why?
Mobile website viewing is sky high – In fact, 60% of internet access is from a mobile devices (Source: Marketing Land, 2014). And just because your website is viewable from a phone, doesn't mean your site visitors are enjoying the experience and will stick around. Pinching and zooming to view text or click buttons is a pain. Pain = Bounce. Say goodbye to your potential customers if you're site isn't responsive.
74% of consumers say they are more likely to return to a website if it's mobile-friendly.Search Engine Watch
We recommend not just building a "mobile-friendly" site, but a truly responsive design if you can swing it. Why? Because Google says so. They officially recommend it. As of September 2014, Google doesn't boost your rankings from a responsive site, but they "recommend" it – which is good enough reason to take it seriously and a possible indicator of what's to come.
Flat Design 
Expect to see even more "flat design" websites – void of details like shadows and gradients in backgrounds and on graphics. The flat design concept isn't for everyone, but it's increasing in popularity because it works well on modern interfaces.
What is flat design?
UX Magazine has a great definition:  "Flat design can be seen as the more sophisticated and versatile cousin of minimalism. While flat designs look great when made within the restraints of minimalism, they can also handle a lot more complexity; these designs have a crispness and clarity that can only be achieved by stripping away three dimensional effects." Read more.
In essence, using a streamlined flat design websites faster and more functional. It embraces the limits of the modern device screens and works within those parameters rather than trying to disguise them. There are different levels of minimalistic and flat designs. Completely flat isn't for everyone, but keep this new trend in mind when re-designing your site because it does have technical benefits along with making your site look more modern.
Vertical Scrolling 
Social media and mobile device usage has groomed visitors to be comfortable with seemingly endless vertical scrolling. There is no longer a need to cram every important bit of info above the "fold." Aside from keeping your large home page image and every pixel that goes with it visible on every screen size without scrolling, you can count on your audience to look for more information down a page.
Because mobile Internet users are accustomed to vertical scrolling, savvy Web designers take advantage of this comfort level by producing site pages (especially home pages) that (a) tell a story and (b) incorporate a lot of white space. By doing so, companies present their value in a way that is both persuasive and easy on the eye.Website Magazine, Dec. 2014
Phenomenal Images 
The best sites are already doing this, but expect more in 2015 with stunning images and graphics that draw more attention than a boat load of text. Using a large, simple home page image (or background video) is the trend.
Expect sites to continue to go from looking like these before and after shots: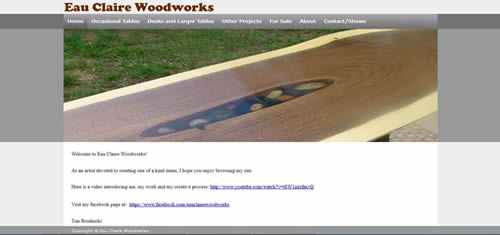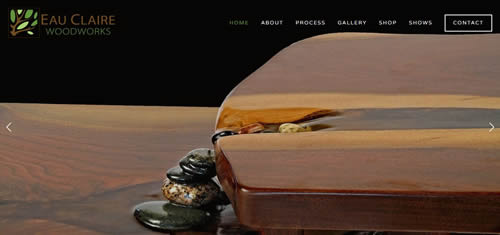 Fresh, Relevant Content 
This is not new in 2015, but it's even more important as companies compete for search engine rankings…
Content is still king.
Google's algorithm still focuses heavily on the content of your website, along with the design. Google looks at what the content is, what it says and how new it is, to be sure you are a reputable organization with valuable information that deserves a good ranking in their search engine results page.
This has been preached for years now, but we think 2015 will be the year that smaller companies step up and realize that their website should not just be an online brochure. It should contain the information your ideal customers are looking for – for free. If they don't get it from you, they will get it from someone else. Perhaps they get it in exchange for a bit of contact information on a landing page, but be a valuable resource.
Successful companies will leverage their website with an industry blog and appropriate social media outlets for their target audience. Update your website content regularly, write a blog, post to social media, repeat. As you do this work, keep your audience and the key search words they'll use to find you in mind.
Consumers are more savvy to brand messaging than ever before and they are very vocal about brands that push self-serving content on them all the time. In order to build a real relationship with your customers online, offer content of real value to them, be that a cool video or offers not available to the general public. It is not search engine optimization (SEO) versus social media optimization (SMO), but both working in tandem that lead to success.Teresa Arbuckle, marketing director UK and Ireland, Grundig
Remember the 80/20 rule with social media:  80% of your posts should include content that really interests your audience and engages them in conversations, just 20% should be outright promotional.
People use social media to be social, they don't want to be subjected to your online sales pitch daily. Always make it about building relationships, rather than annoying your audience with irrelevant content and boosting your own image.