Nothing pops my corn like dishonest people taking advantage of others. And something I keep running into these days is domain name scams. Through my years of working with small business owners, pastors and non-profits, I can't count how many times one of my clients was wise enough to ask about a "domain name renewal notice" from a company they didn't recognize. In fact, I've received these too!
Beware of Domain Name Scams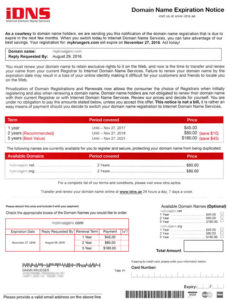 Just this summer my own husband fell for a domain name renewal scam from iDNS Internet Domain Name Services! We hold a personal domain name for our family email and after receiving a "Domain Name Expiration Notice" from iDNS, he sent them money. He thought he was sparing me from dealing with an internet related issue of our own. He meant well. So he "renewed" our domain name with iDNS, no questions asked.
However, our domain name is actually held by GoDaddy and I'd like to keep it there. I have several other services set up with GoDaddy and moving away would take some rework. Luckily, we were able to cancel the check sent to iDNS and keep their attempted theft at bay.
Why I Believe This is a Scam
First let me explain that if you read all the details in the "Domain Name Expiration Notice" you'll see that they do say that "this notice is not a bill." So some people might not consider this a scam at all. I do however, and here's why:
The writers of this letter know that people don't read all the details anymore. They purposefully wrote headlines on the letter and used a format that makes it look like a bill. It has a service expiration date, billing periods, an area for your credit card info and a "request to reply by" date. It is formatted like an invoice, not a letter.
Companies like iDNS know that domain names are purchased once a year at the very most and often times companies register domains for multiple years. This is actually a Google ranking factor – the more years you pre-register your domain name the better… but I digress. The point is that domain name registration is almost never top of mind for any organization. It's a set it and forget it service. So it's easy for organizations to forget where their domain name is registered. That lack of knowledge makes it particularly easy for a scammer to prey on companies. Not only is the registrar name back of mind, but the small fee paid is as well.
Domain name companies and everyone in this industry knows that many customers have their email, domain name, website hosting and CMS all under different companies and logins, further confusing the issue and making them an easy target.
Notice that iDNS charges $45 annually for your domain name registration. This is highway robbery! Most leading domain name registrars charge between $10-15 annually for domain names.
And lastly, I see this as a scam because I've been contacted multiple times through the years from people who receive this letter and find it very confusing. Their first instinct is to just treat it like a bill, but luckily they call to confirm.
How Protect Yourself From Domain Name Scams
The easiest way to protect yourself from a domain name scam is to contact your hosting company or website designer before paying any internet related invoices. They can tell you who your name is actually registered with and clarify if the letter or email you've received is legitimate.
You can do a little research yourself pretty easily too if you prefer. Just look up your domain name on ICANN's domain name registry to see who holds your domain name registration. That's the only company you should be paying for your domain name renewals. A quick look up will tell you the name of the company your domain name is registered with, their contact info, when your name expires and the contact information of the person your name is registered to. This might be limited if you have privacy turned on for your domain (which I never recommend, by the way).
If you have any questions or if you'd like us to take a moment to do a quick look up of your domain name, please don't hesitate to contact New Sky Websites. We're always happy to help!